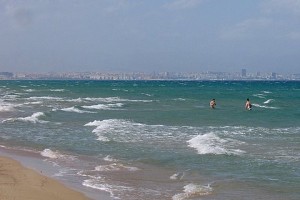 So you arrive at the apartment after a few hours travelling what do you have to look forward to? . . .
The beach will take you no more than ten minutes or so to reach so why not take a couple of beach mats and head out for a morning on the sand?
When the sun really gets going boy is it warm on the Costa Blanca and most locals will seek the shade or call home for a siesta and that's not a bad lifestyle to follow – if the beach bar isn't to your taste call in to any of the bars on the Carabassi complex  for a leisurely glass of something cold with a light lunch or maybe a sandwich by one of the complex pools.
If you don't fancy visiting one of the bars in the evening you can chill out in the lounge (with the air conditioning turned on of course) watching a dozen or so U.K. channels – after a barbecue on the roof terrace of course.
If you have children with you I'm sure the beach and complex pools will keep them busy most days but if they do have energy left to burn there are several play areas close by and a small but lively adventure park in Santa Pola ( a short bus ride away)