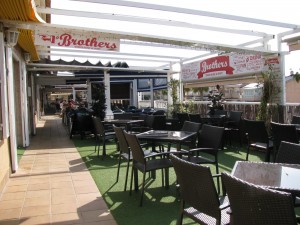 Gran Alacant has four main areas where you will find shops, bars and restaurants.
Novamar Central or Carabassi central is based around Avenida Noruega and is less than 5 minutes walk from the Apartment
There is a a small supermarket (selling English newspapers, Bacon and Tetley tea amongst other essentials), 8 restaurants and 12 bars to chose from giving a choice of Indian, Chinese, Dutch, Mexican and Irish cuisine – along of course with English and Spanish!
If you are looking for a night club then the Yellow Submarine opens late/shuts late.
Calle Río Ebro is around a mile from the Apartment and has a decent sized supermarket situated just behind a central square which has half a dozen bars and three or four decent restaurants including the Patagonia Steak House which specializes in Argentinean steaks.
A few minutes further on takes you to the Centro Commercial where you will find three good sized supermarkets, dozens of shops selling everything from clothes and shoes to electrical goods and DIY products – there are around a dozen bars and restaurants mostly on the upper level.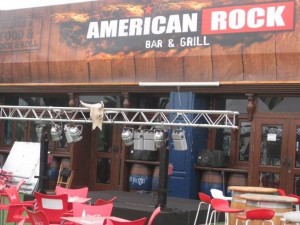 At the higher levels of Gran Alicant centred on Av de Escandinavia has another set of bars restaurants and shops (including a chemist and an English Supermarket selling things like Marmite, Bacon, Tea Bags and Marmalade)
The orbital bus and the land train take you to all of these places making them all easily accesable without the need for a hire car – in high season the tourist train runs until midnight and until 10 at other times of the year .
If you want to travel further afield then Santa Pola is a short bus ride/taxi journey away with Alicante a few miles further in the other direction.