Area Information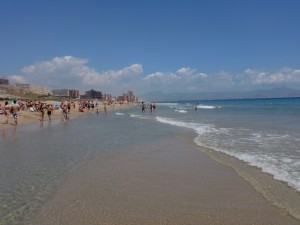 Gran Alacant is a residential tourism urbanisation located 9 miles from the city of Alicante.
The urbanisation has many permanent residents – mostly British, Spanish, Dutch and French enjoying the fabulous climate and beautiful beaches and sand dunes that the area affords.
The urbanisation is located on a hillside close to the sandy beaches 4 miles from the Spanish working resort of Santa Pola and 8 miles from  the international airport at Alicante.
Beaches
Carabassi beach has 4 kilometres of sandy beach with several beach bars and a water sports centre situated ten minutes walk from the apartment.
The beaches of Santa Pola are also close by.
Excursions
Santa Pola  has one of the biggest fishing ports on the Mediterranean and here you will find some excellent fish restaurants serving the local 'catch of the day'.
There are regulat day trips to the "Isla de la Tabarca" which was made a national Marine Reserve in 1986 and is one of the top ten places in the world for divers
The city of Alicante is described as the nicest city on any of the costa's  and can be reached by bus in 20 minutes
Shopping
There are supermarkets (including a british supermarket and an Aldi), restaurants, chemists and others in Gran Alacant and there is a large commercial centre with shops including car and scooter hire, opticians, clothes and shoes and many others.There is market in Gran Alicante on Thursday and in Santa Pola on Tuesday.
Cuisine
Within 5 minutes walk from the apartment there is a choice of Indian, Chinese, Mexican, British, Irish and Dutch cuisine.
Nightlife
Though you would need to travel to Alicante, Santa Pola or futher afield to Benidorn or Rorrivieja for night clubs the local bars are lively at night – and beer is trypcally €2 a pint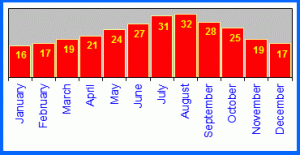 Climate
The Costa Blanca enjoys a typical Mediterranean climate, with cool sea breezes in summer and protection by surrounding mountains against the cold North winds in winter. The area averages nearly 3,000 hours of sunshine each year with an average of 325 sunny days each year – average daytime temperature in July and August is in the high twenties.
In 1986 the World Health Organisation recommended the climate of the area as one of the most equitable in the world – neither too hot in the summer nor too cold in the winter making it an ideal all year round destination
"Golf Nearby"

Gran Alacant is a popular base for golf holidays because central Costa Blanca has many top quality golf courses and most are within an easy drive of Gran Alacant
The climate means that you can play all year round as the winter climate in the  Costa Blanca  is drier than the other Costa's.
Green fees range between 35 and 60 Euros per round, often with discounts for advanced booking or large parties. Trolleys, clubs and buggies are available for hire.
The closest course is Alenda  (http://www.alendagolf.com/en/) which is  20 km from Gran Alacant, with both a 9 and 18 holes course. It is open from 8 a.m. until the late evening and lessons can be booked with an English speaking coach – equipment can be rented.
Alicante Golf (http://www.alicantegolf.org/en/) is 25 km from Gran Alacant just to the North of the city of Alicant.
To the south of Santa Pola heading towards Torriveieja there are excellent courses at Marquesa and La Finca .